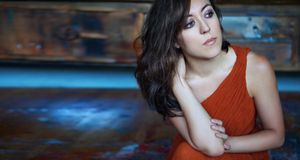 American Record Guide 
Tanya Bannister, an exceptionally talented young pianist…is fortunate to have three attractive composition commissioned for her…and well recorded. …Bannister plays all these with a scintillating tone and a subtle sense of chording and dynamics. A beautiful piano tone is a rare thing these days, and she has it." 
EVANSTON REVIEW for Ravinia Rising Stars 
March 9, 2010 
By DOROTHY ANDRIES Contributor 
Recital: A terrifying performance experience for a young music student; an excellent opportunity for a professional to show what he or she can do. 
The spring series of Rising Stars recitals at the Ravinia Festival's year-round Bennett-Gordon Hall began March 5 with Tanya Bannister at the piano. The Steans Institute alumna is now a polished professional and demonstrated both considerable technical ability and graceful sensitivity. 
Her program opened with a modest but winning transcription by Egon Petri of Bach's "Sheep May Safely Graze." She has a cool touch and the choral line fell from her fingers like small bell tones from beneath the familiar harmonies. 
She then launched into Robert Schumann's "Kreisleriana," a series of eight pieces subtitled "Fantasies for Piano." The nearly 30-minute performance was a display of Schumann's many moods and Bannister's ability to bring them to life. 
The music ranges from a torrent of harmonies, played by flying fingers, to the most noble of sentiments, sedate and measured. The sounds could be as merry as a kindergarten class and as bittersweet as a memory. Bannister coaxed many a melody from the ebony Steinway that was placed front and center on the hall's golden-hued stage. 
The piece was dedicated to Chopin, but there were echoes of Bach, traces of Mendelssohn and even a structure resembling Brahms' beloved "Lullaby." 
The second half of the program included two selections from "Iberia" by Isaac Albeniz, full of wistful guitar-like music, and Chopin's Ballade No. 4, in honor of the 200th anniversary of the composer's death. But the most interesting part of the night were two pieces written for Bannister by contemporary composers Christopher Theofanidis and Suzanne Farrin. 
"All dreams begin with the horizon" by Theofandis is a turbulent four-part work which at times rivaled the fury of the Schumann. The composer flirts a bit with minimalism, to positive effect, as major chords move about with subtle embellishments in the section marked "noble." The fourth section "threatening," resembled a film score warning us to be afraid, very afraid. 
"This is the story she began" is the title of Farrin's piece, which is meandering, flashy, rich in glissandos and as poignant as it is pleasant. The pianist handled both works with zest and vigor, demonstrating her devotion to playing the works of composer's writing today. 
Altogether, the young woman presented a diverse and highly satisfying performance of music spanning four centuries. It is amazing what a professional can do with just one recital. 
http://www.pioneerlocal.com/evanston/entertainment/2093289,entertainment-north-risingstars-031810-s1.article
Connecticut Post, October 2009
The Greenwich Symphony opened its 2009-10 season last weekend with a tribute to Abraham Lincoln, marking the 200th anniversary of his birth with a performance of Aaron Copland's "Lincoln Portrait." Copland wrote this piece in 1942 as part of a series of commissions to celebrate famous Americans. 
Robert Sherman, who has been with classical music radio station WQXR for more than 50 years, joined the orchestra as narrator. In the pre-concert talk, Sherman said that it was the composer's wish that the narration "succeed not through acting but through the voice alone." Sherman succeeded with this endeavor. His virtuosity is in his sense of timing and the way he paced the allocation for each narrated segment. He spoke with clarity and developed the power of the message from a sense of sincerity. It was a refreshing interpretation. 
The Greenwich Symphony, conducted by Music Director David Gilbert, set a strong background for Sherman. The music was poised and dramatic, punctuating the text in coordinated silences and precise swells. 
To close the first half of the program, pianist Tanya Bannister joined the orchestra as soloist in Mozart's Piano Concerto No. 23, K. 488, in A-major. She played with kaleidoscopic touch. Bannister found many ways to shade lines and articulate ideas that shifted from the surface into deeper layers of the musical fabric. Her first-movement cadenza opened with Mozartian gestures before becoming stormy in a central passage and flashy at the point just before the trills sewed the movement back into place.The orchestra was not always focused and sounded heavy. As an example, the wind entry moments before the close of the Andante was loud, and crushed the delicate pizzicato texture of the strings and the witty line that Bannister was voicing. There were stronger moments in the Presto finale, where the ensemble rallied and sprinted, along with Bannister, to a rousing conclusion.
Tanya's review of her Kennedy Center performance 
"Bannister played with intelligence, poetry and proportion … was particularly impressed by the way she gave all the Brahms variations their own splendid little lives and characters while yoking them firmly into a grander totality . " Tim Page from the Washington Post (29th January 2007). 
Tanya featured in Symphony Magazine as one of 6 artists to watch 
magazine article 
Review from April issue of BBC Music Magazine for Clementi Recording 
"Aged 27 at the time of the recording (2004), Tanya Bannister is at the other end of her career, yet she is clearly an artist to watch – and no wonder when she can count Claude Frank and Richard Goode as her main teachers. Her recital appears to have been chosen especially to emphasize Clementi's impact on Beethoven – you can feel the latter's Op.2 waiting in the wings. Accordingly Bannister plays up the music's dynamism and occasionally restless spirit – Barenboim's EMI Beethoven sonata cycle is readily brought to mind. Yet although she possesses enviable articulate and accurate fingers, she is also sensitive to the music's many lyrical asides. A most impressive Naxos debut." From page 96. – BBC Music Magazine 
Times Picayune, March 2006 
Biography also came to the fore in Bannister's impassioned take on Beethoven's "Emperor Concerto: delicate piano trills set up velvet entrances by the horns; loping orchestral passages barely kept pace with rattling keyboard interjections. The gold medalist pushed her tempos in a reading that emphasized the tensions between soloist and orchestra … it also yielded a musical drama perfectly tuned to post-Katrina New Orleans. 
From the All Music Guide 
Muzio Clementi 's sonatas are a peculiar animal. He was a composer whose works straddled the Classical and Romantic periods both temporally and stylistically. Therefore, pianists who play his sonatas have a wide range of choices when making decisions about articulation, dynamics, and other details that will determine how the music sounds and feels, not to mention choosing between harpsichord , fortepiano , or modern piano for an instrument. This Naxos release includes three sonatas, which date from 1795 to 1821, performed by Tanya Bannister on a modern piano. She gives all of them more of a Classical interpretation, using a soft, graceful touch and shying away from drama for drama's sake. The first sonata, in G minor, Op. 34, No. 2 , is one that was a favorite of Vladimir Horowitz . Bannister is much less forceful in its opening movement than Horowitz , but that doesn't mean it lacks purpose. Its middle movement sounds like a languid gavotte , while that of the A major, Op. 50, No. 1 , marked Adagio sostenuto e patetico , is quietly elegaic. She seems to approach the emotion of these works with a more easy-going, instinctively unruffled demeanor, while still giving them plenty of interest and subtle shaping in even the smallest of phrases. It could be argued that she is ignoring the 'con sentimento,' 'con anima,' and 'patetico' markings, especially in the Op. 50, No. 1 — one of Clementi 's last and, stylistically speaking, most Romantic sonatas — but the way she interprets the music isn't inappropriate. The finales of both that sonata and the E flat major, Op. 41 , are cheerful and allow her to show off her smooth legato technique in scales and ornaments that ripple along pleasantly. There is a certain amount of virtuosic showmanship in these sonatas, but Bannister concentrates more on the big picture and the overall impression of each movement. The recording's sound isn't too close or deep, which, in a way, adds to the elegance of the performance by not letting the fortissimos and pianissimos become too theatrical. Bannister certainly makes a strong and agreeable case for the more Classical interpretation of Clementi 's music.